About the Końskie region
---
A bit of the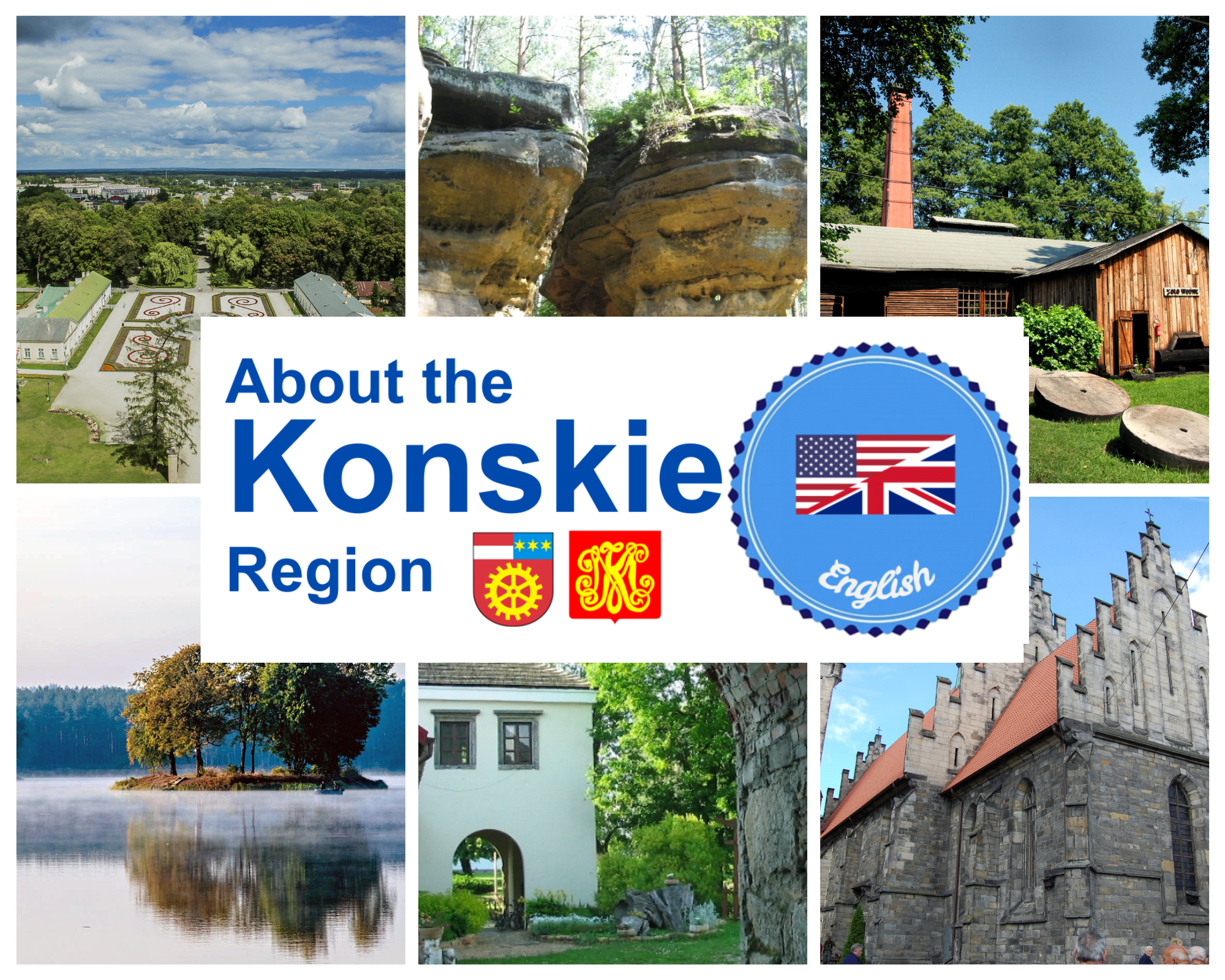 town history first: The Odrowąż family were the first owners of Końskie. From that time (XII c.) come the first records mentioning its existence. A town developed around the church founded by the Odrowąż family. Końskie was granted its city rights at the turn of the XIII century to lose them in the XV century.
Rafał of Małachowice, castellan of Sieradz, bought the village of Końskie in the mid-XVII century. Końskie rapidly developed under the rule of that powerful magnate family, especially when it was managed by the Great Chancellor of the Crown Jan Małachowski. Końskie regained its municipal rights granted by king August III (1748). At that time the name of the place was Końskie Wielkie and its crest featured the JKM letters on red background meaning "Jan Małachowski the Chancellor". A construction of a sumptuous residence was planned but it was never built. Only a large park was arranged and a number of outbuildings were raised.
In the XVIII century Końskie economy was based on agriculture, trade and crafts (stage-coaches, britzkas) as well as on metal industry. Many forging shops and foundries were located near Końskie. The period of the town's decline came with the final partition of Poland in 1795.
Count Jan Tarnowski bought Końskie at the end of the XIX century. A new railway line joining Końskie via Koluszki with Bodzentyn was opened in 1885, and gave the town a chance of further development. Economic stagnation marked the time of World War I and the inter-war period. World War II, especially the period of the Nazi occupation, evokes tragic memories. Arriving in Końskie, the Germans started immediately the extermination of its population. All Jews were enclosed in the ghetto, the synagogue was burnt and a prisoner-of-war (POW) camp was set up. Nearly 14.5 thousand people of the Końskie county were murdered.
Many partisan units operated in the region of Końskie. The Germans were often confronted by the units of the Home Army (AK) commanded by Waldemar Szwiec ("Robot") and Antoni Heda ("Szary") and the famous grouping of major Henryk Dobrzański ("Hubal"). Due to the effectiveness of their operations, the Germans called Końskie the Banditenstadt. Końskie was liberated on 16 January 1945. In 1985 it was decorated with the Order of the Grunwald Cross 2nd Class.
A more detailed description of the history & tourist attractions of the town of Końskie is available in the publication "Through Końskie and Sielpia... to Heaven" (p. 9-22), published in 2014. More brochures in
about Końskie & the Świętokrzyskie (Holy Cross) region can be found on our website in the tab of E-Publications.
---
Below you will find the most noticeable landmarks in the commune & county of Końskie, classified in different sections according to their location, features or history.